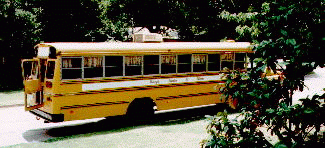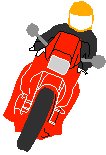 From 1996 till January 2004 this was a current picture of the mobile classroom, the color was OK with DPS.
Then in January 2004 it became necessary to paint the mobile classroom. The current color is aqua blue.
Because of conditions beyond my contol I have decided to retire.


After teaching the Motorcycle Safety Foundation (MSF) viewpoint on motorcycle safety to mainly Beginner riders only I have decided it is time for me to retire. During the past 15 plus years I have been in contact with an excess of 3600 plus students during which time I have attempted to exposed those Beginner Riders to the MSF viewpoint on safe riding.


As a result of my retirement Motorcycle Education of Oklahoma (MEO) which I was the only instructor is on a wait and see condition. Maybe in the future MEO may come back up, but presently it is just sitting there.
Send mail to Motorcycle Education of Oklahoma with questions or comments about this web site.
Copyright © 1997 - 2011 Motorcycle Education of Oklahoma
Last modified: June 20, 2011